Rescuing a dog has developed a bad rap among some in today's society.
They believe that you're more likely to end up with a potentially high-risk dog that has some sort of baggage or behavioral issues. The reality is that it's a far more likely chance you'll bring home a very affectionate, loving, extremely grateful, and loyal companion.
The one thing all rescued dogs have in common is a story. They all have a story with a plot consisting of a life they lived before and how they ended up in their new home. Although some stories about their previous life are harder to stomach than others, nothing beats hearing the story of the underdog getting their happy ending.
That feeling you get when you hear a good rescue story is the reason I started Best Life Leashes. Experience with my own rescue dogs and 9 years as a licensed vet tech have taught me that people are more likely to rescue a dog when they see that others have chosen to and see how awesome their rescue dog is. That's why we use the two white stripes on all of our leashes and collars to do just that - let others know you're a proud owner with a rescue story in the hopes you inspire them to do the same.
Learn more about the origin of the white stripes here.
So here are the stories of 4 rescue dogs "sharing their stripes" and showing us just how awesome rescuing a dog can be.

1. Maisy (& Andy) @maisythebarnhippo
Known for her sassy woos and spikes of glory, this beautiful girl is a living example why you shouldn't judge a book by its cover.
She was a birthday present for someone, but kept in a kennel outside.
For the next 3 years, Maisy was only brought out of her kennel to be bred. But after realizing she wasn't getting pregnant, the previous owners wanted to have her put down.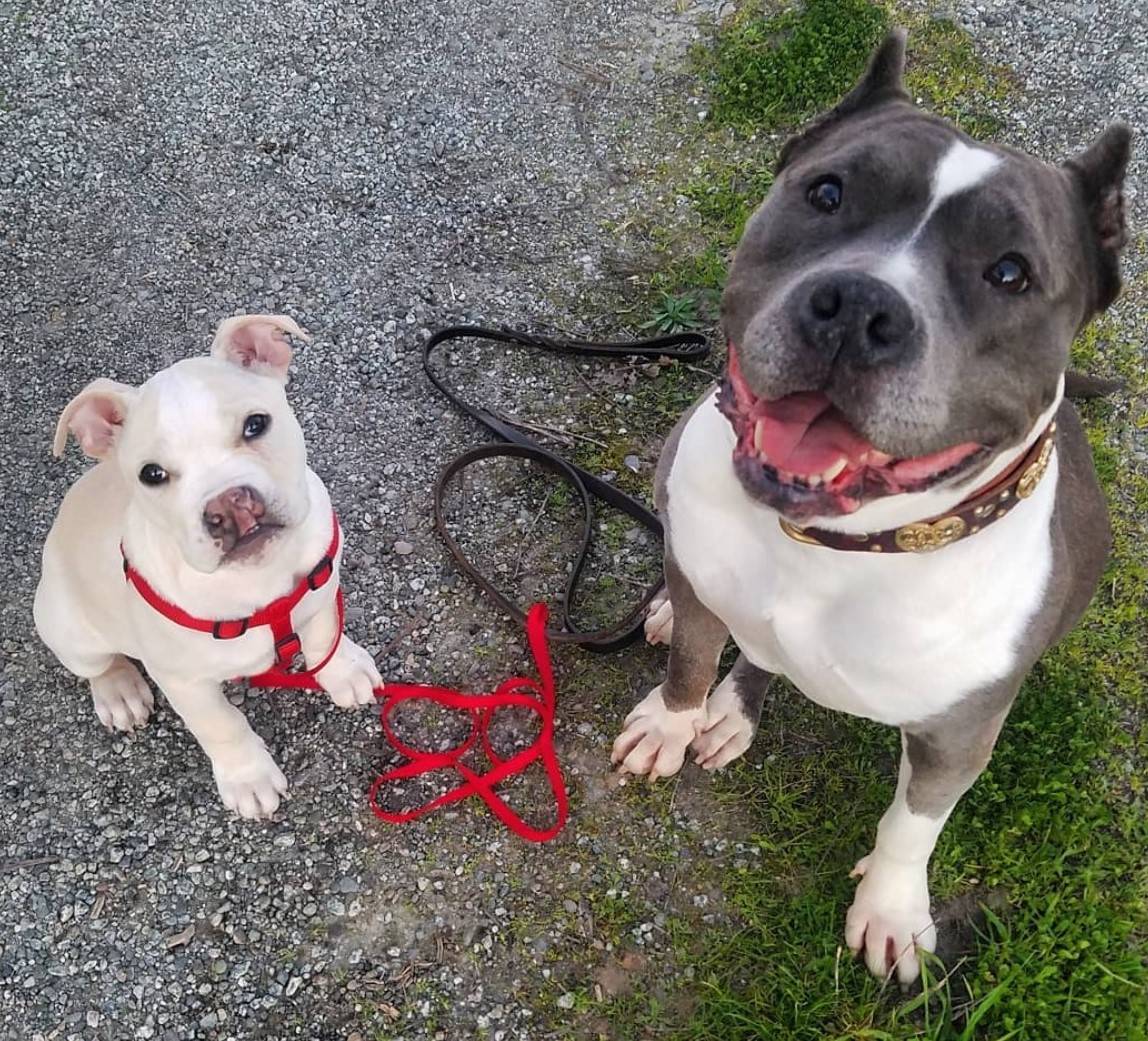 Thankfully, a friend of the family stopped that from happening and Maisy was placed into a rescue within a couple of days. Even though she was diagnosed with a pyometra (an infection of the uterus) and required extra care over the next month, Maisy's mom adopted her just 3 days after the spay.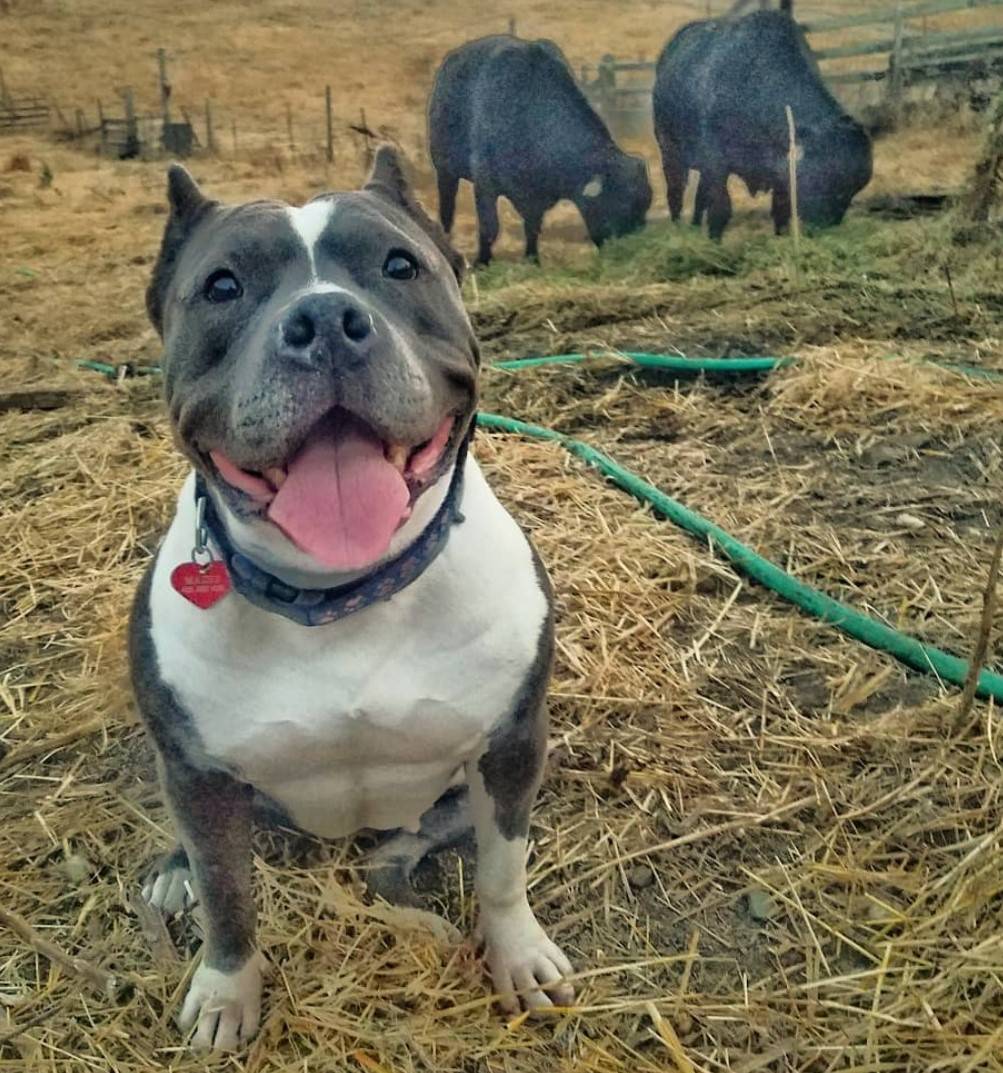 Nowadays, Maisy has room to run and play on her very own farm.
She helps overturn false negative stereotypes of her breed by bringing happiness and laughter to many as she keeps Mom in check with her sass of perfectly timed woos. Her responsibilities recently expanded to mentoring her newly adopted little bro, Andy.

Little Andy (who's quickly outgrowing that nickname!) was born with a cleft lip and full cleft palate. When he was just a newborn, he had to be taken into lifesaving foster care as a result from not being fed for 3 days. Today, Andy is happy and healthy in his new home and is quickly gaining a large fanbase as he becomes a strong ambassador for both his breed and cleft dogs.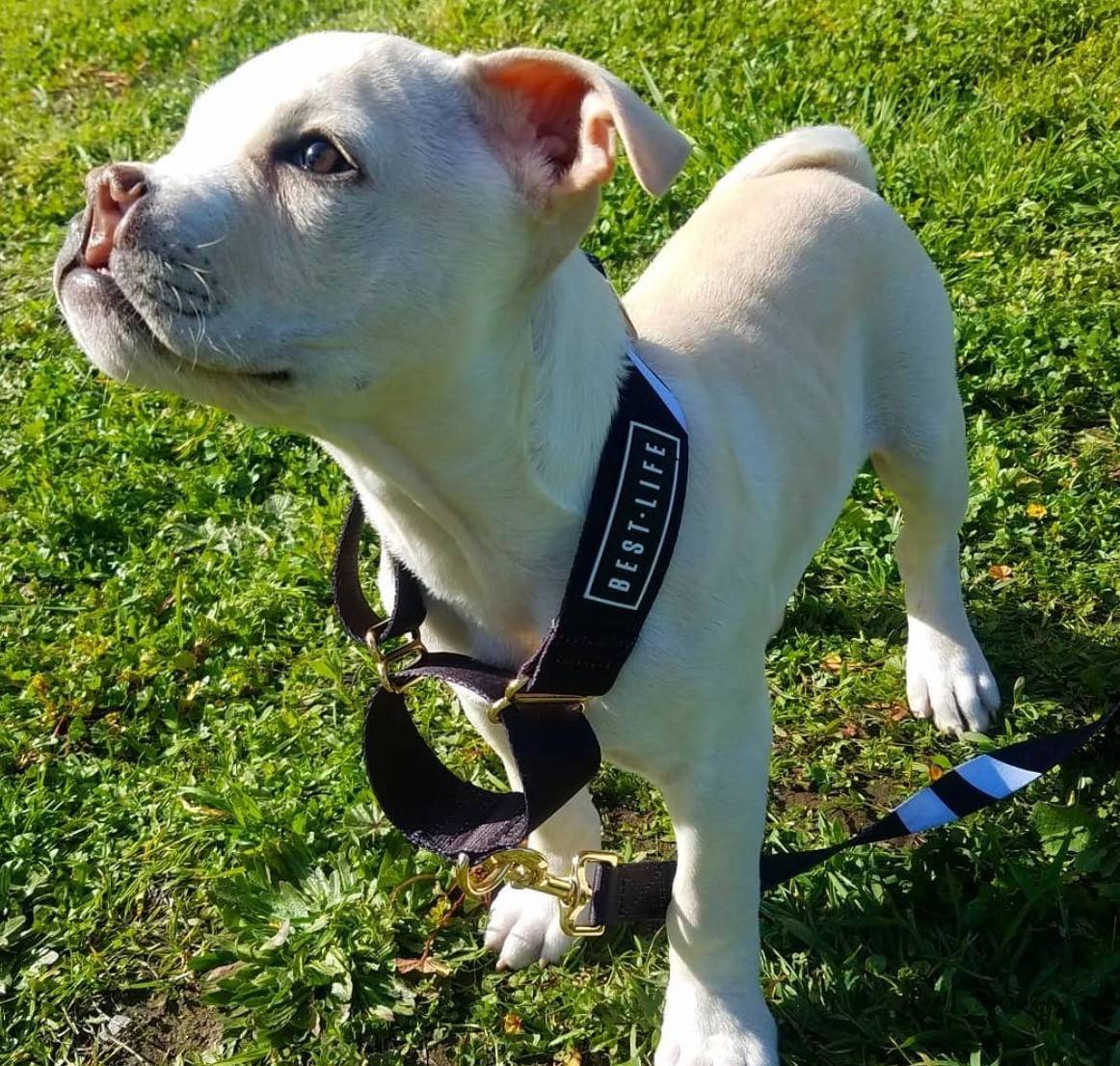 When I asked if it's important to her that others know her dogs are rescued, Maisy's Mom said, "Yes. People compliment [Maisy] all the time! I love telling them she was unwanted and set to be euthanized just to see the reaction."
Maisy has already inspired more people to rescue after hearing her story, so she's excited to keep sharing her stripes and help even more dogs find homes and live their Best Life!

You'd never think a dog this handsome would be running scared and collarless in the streets of California, but that's exactly what he was doing when Rex's Mom first saw him. She quickly circled back to see if she could get him in her car. Luckily, Rex decided to give into a cliché canine instinct...and stopped to sniff a fire hydrant.
After 30 minutes, Rex finally hopped into the car and a week-long search for his owner began. Like any owner search these days, it all started with scanning for a microchip.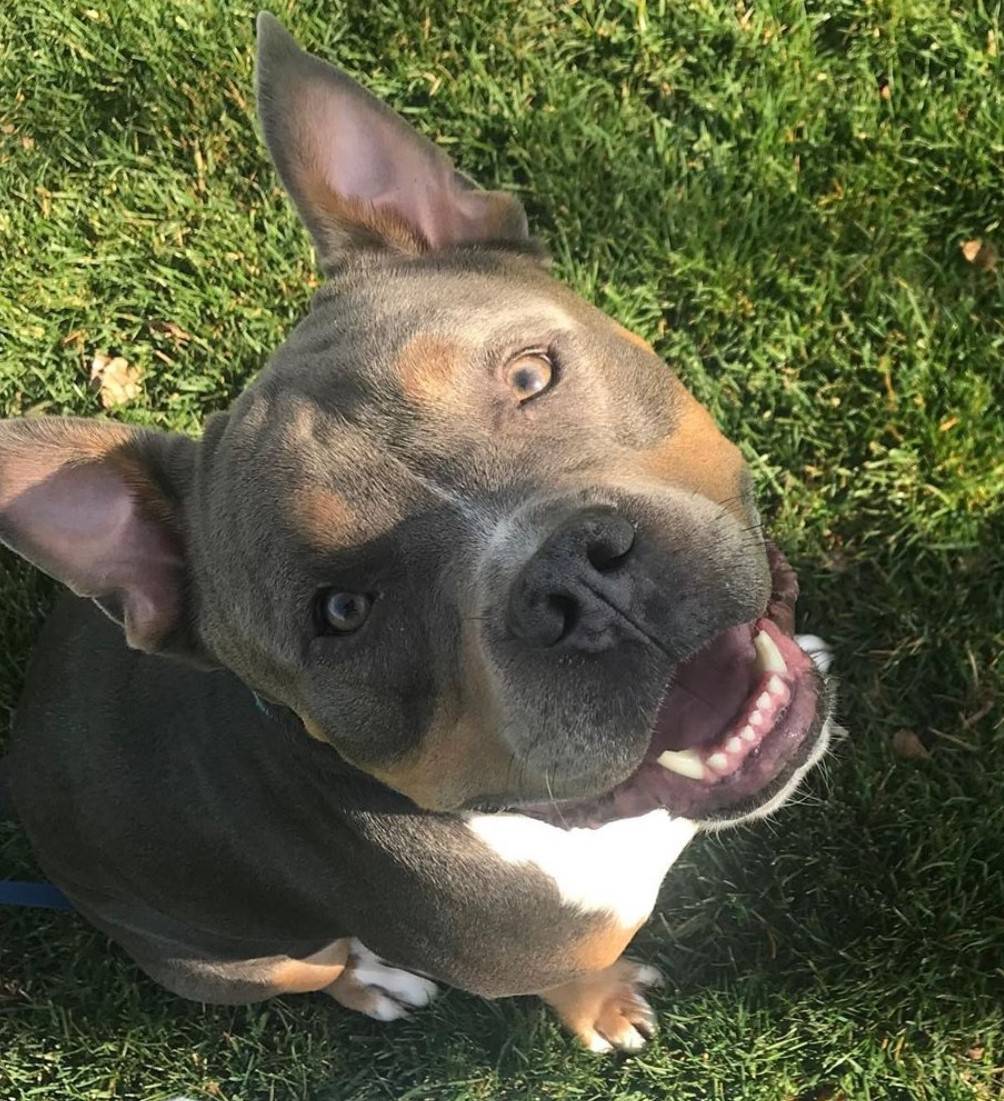 Rex's breeder had implanted a microchip, but gave Rex's chip number to another littermate.

So when Rex's microchip was scanned and the number was searched for in the database, the information of the other littermate's owner is what came up.
(Always confirm your dog's chip number, guys. This happens more often than you'd think.)

After receiving the breeder's contact information from the littermate's owner and a crazy chain of contacts, Rex's Mom finally found his original owner…

...who informed her that he had given Rex away to a friend…
...who gave him to his cousin two days later…
...who had lost him.
Rex's Mom gained the official title when one of the previous owners told her to keep Rex.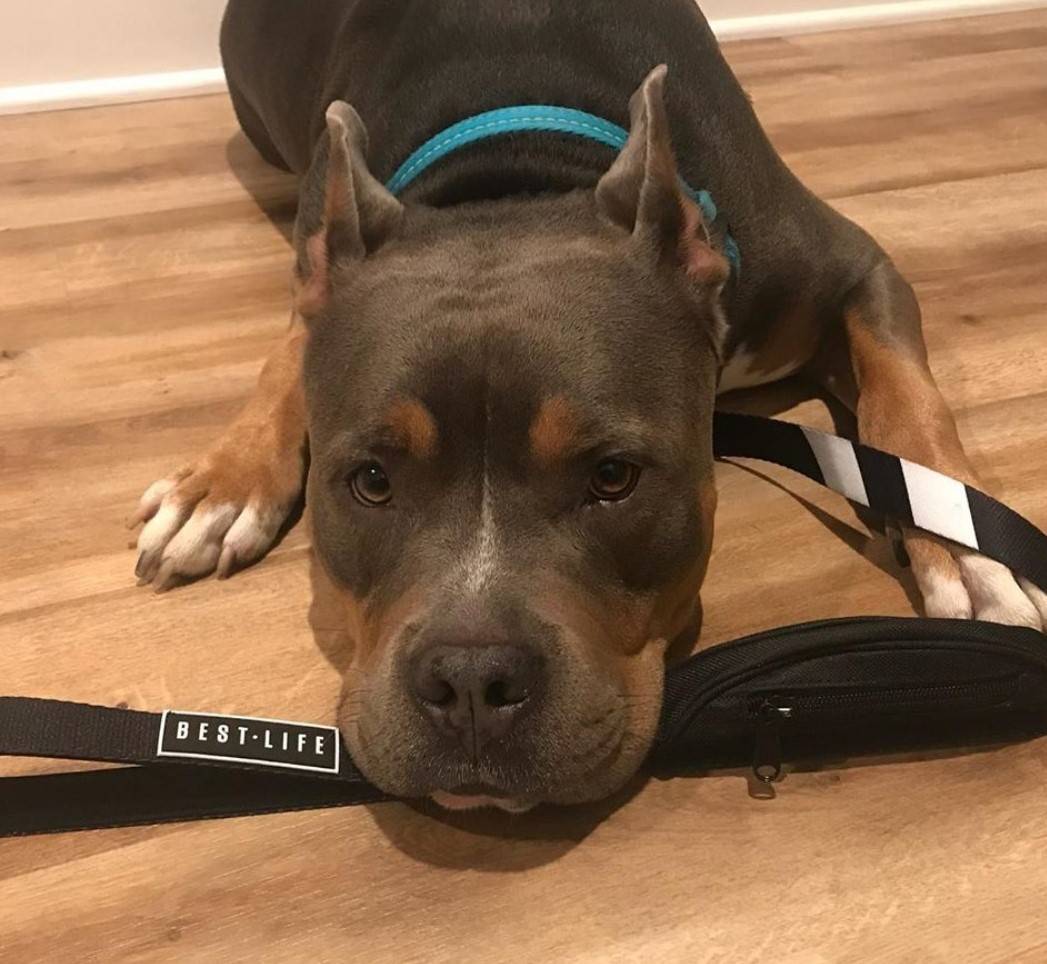 Instead of letting such irresponsible pet ownership make her angry, Rex's mom says, "These three guys' indifference towards this beautiful boy was possibly the best thing that has ever happened to me - and to Rex!" She's always believed that rescuing a dog is the most personally fulfilling thing a person can do and the right thing if you have the ability to do so.
Now, the only running through the streets Rex does is on a leash with Mom by his side.

His training videos prove that with love, patience, and dedication, old dogs can learn new tricks. They enjoy lots of walks letting their stripes show with the signature Cargo Leash. Mom says, "I love this leash more than I would have thought I could love a leash! I look forward to many, many more walks using this leash."

Wanna know what Rex's Mom is talking about? Check out 6 things you'll love about our leash here.
3. Tuggy (& Miss Pickles) @tuggy_tugboat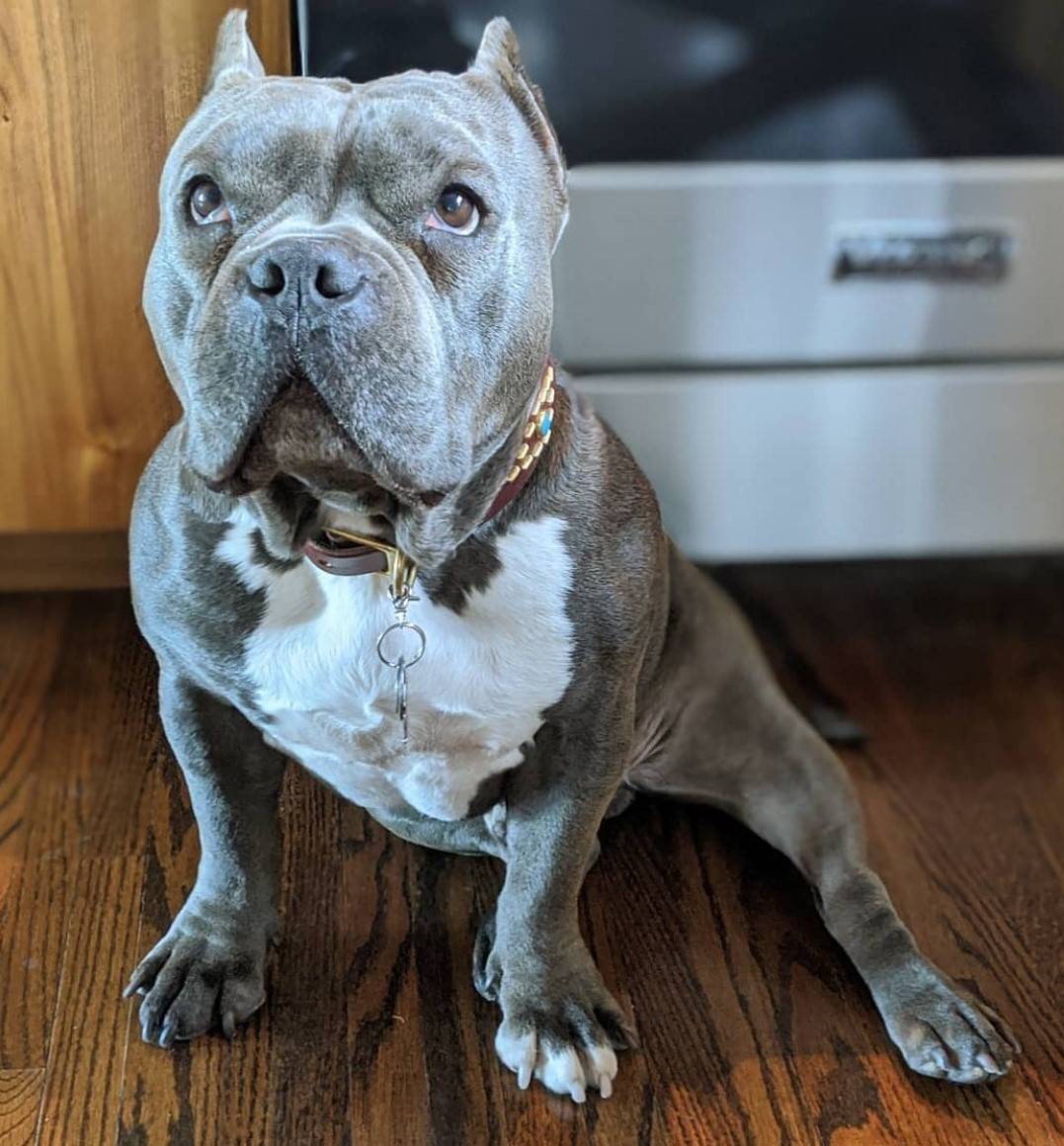 Sporting glorious neck rolls that make walrus everywhere quiver with envy, Tuggy was once a dog overlooked by adopters at a small, local shelter. He is a perfect reminder that the over-exuberant kennel behavior often displayed by dogs in the shelter is not an accurate representation of how they'll behave in a home.

Tuggy's owners (who call themselves keepers) weren't looking to adopt another dog, but an upcoming holiday was going to cause a big influx of dogs into the shelter, so they agreed to take him home as a foster. Almost adopting him out to another family helped Tuggy's keepers realize he was already home.

Along with helping his keepers have happier days and constant smiles, Tuggy also helps this happen for others within the community through his work as a court therapy dog.

He's also helped his new sister Miss Pickles acclimate into the family and finally feel safe in her new home.
Miss Pickles, the cutest gherkin you'll ever lay eyes on, was a staff favorite in a Southern California shelter. She was placed into a rescue organization to receive a TECA (Total Ear Canal Ablation) surgery on both of her severely infected ears.
Although the surgery was successful, Miss Pickles ended up with a severe loss of hearing and total removal of her ear flaps (due to the extensive damage of them prior to surgery).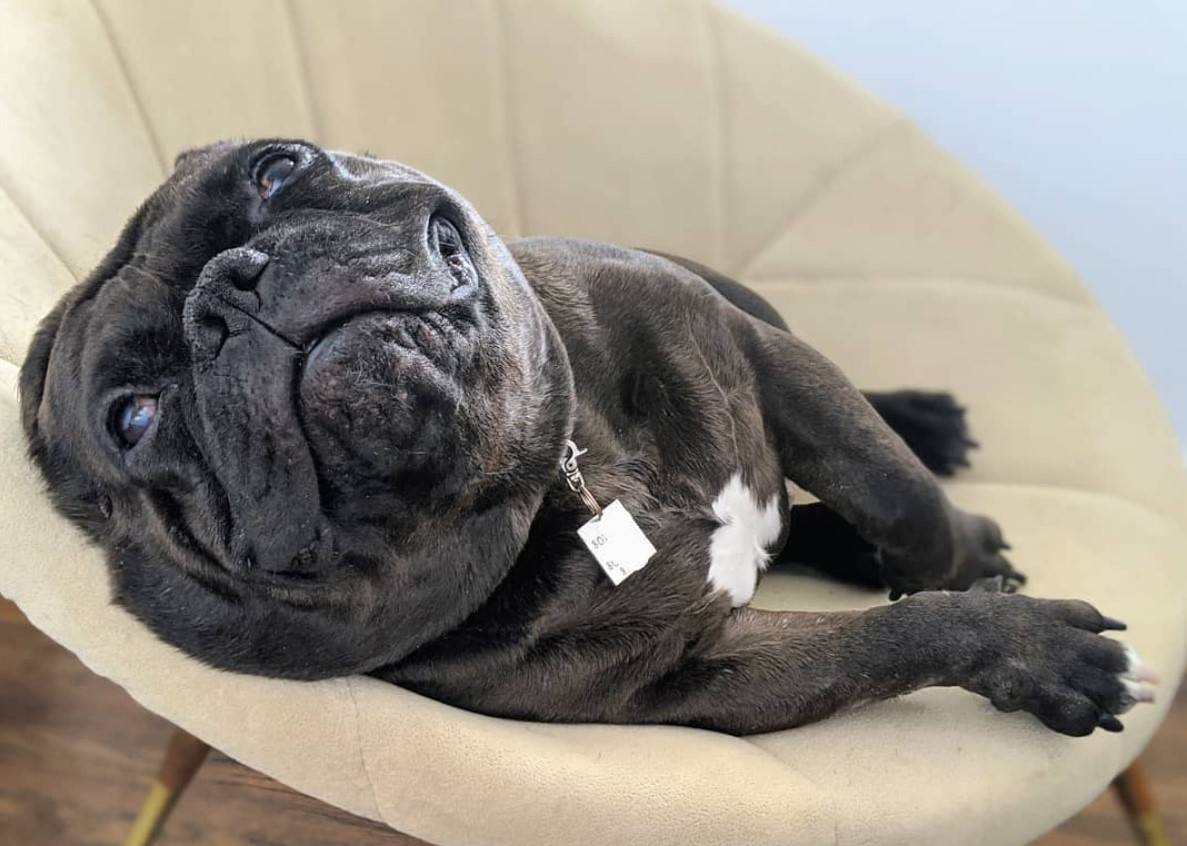 Not phased by her inability to hear and new unique appearance, the keepers drove to Southern California and brought her home.
For the keepers, she's been the slowest dog to come out of her shell, but after 4 months, her hilarious and loving personality has fully blossomed. Her progress reveals how truly rewarding it is to rescue a dog.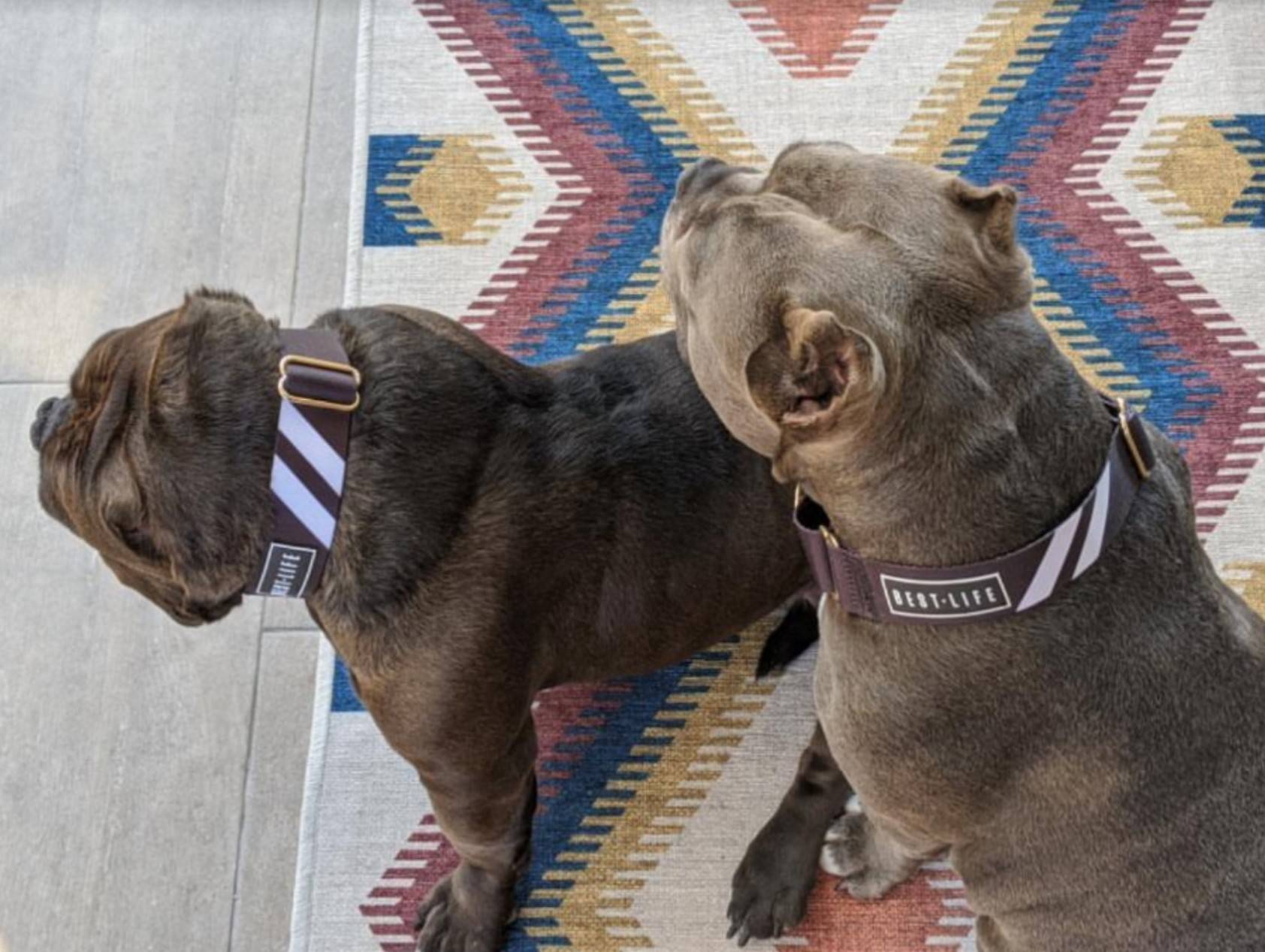 These two beautiful creatures that were once unwanted have gone on to do amazing things within and beyond their community, and continue to do so today.
Their keepers tell me they are proud to rock their Best Life stripes so they can show off their amazing rescue dogs that inspire more people to rescue, too!
4. Mr. Breakfast @mr.breakfast

As he struts his stuff up and down the blocks of San Diego, Mr. Breakfast leaves a trail of smiling faces in his path. His friendly disposition and polite leash manners promote positive awareness for his breed type and adopting special need dogs.
Unlike the other stories, Mr. Breakfast's Ma (aka...me) didn't receive too many details of his past.

I could easily tell from his horribly cropped ears, dull coat, and inflamed skin that he didn't come from a loving home or caring owner.
His medical history consisted of hearing loss after enduring many months with painful ear infections before receiving a TECA surgery through a rescue organization, multiple injuries and temperament consistent with fighting and owner neglect.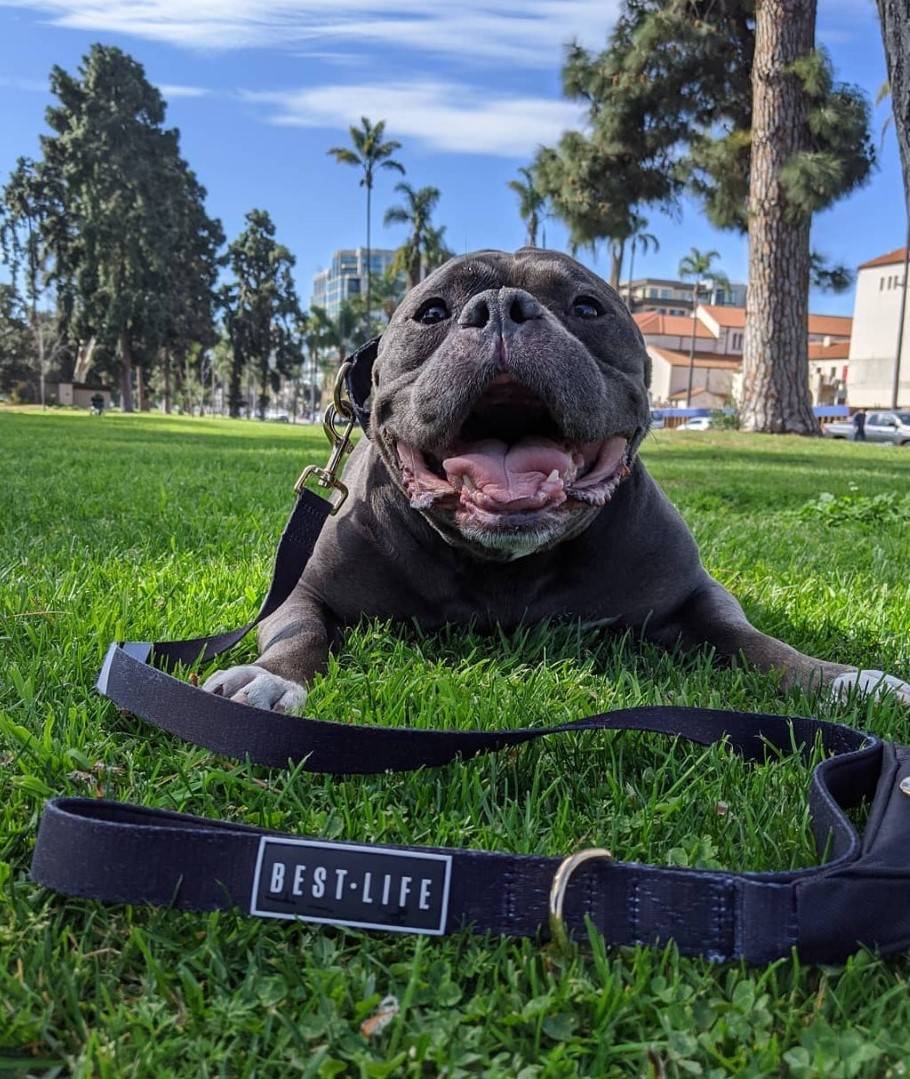 Yet, I watched as he happily trotted around, approaching every person and animal with a friendly smile, not letting a single thing cause him to be bothered.

Once he sat on my feet and smiled up at me, it was obvious who his new loving and caring owner would be.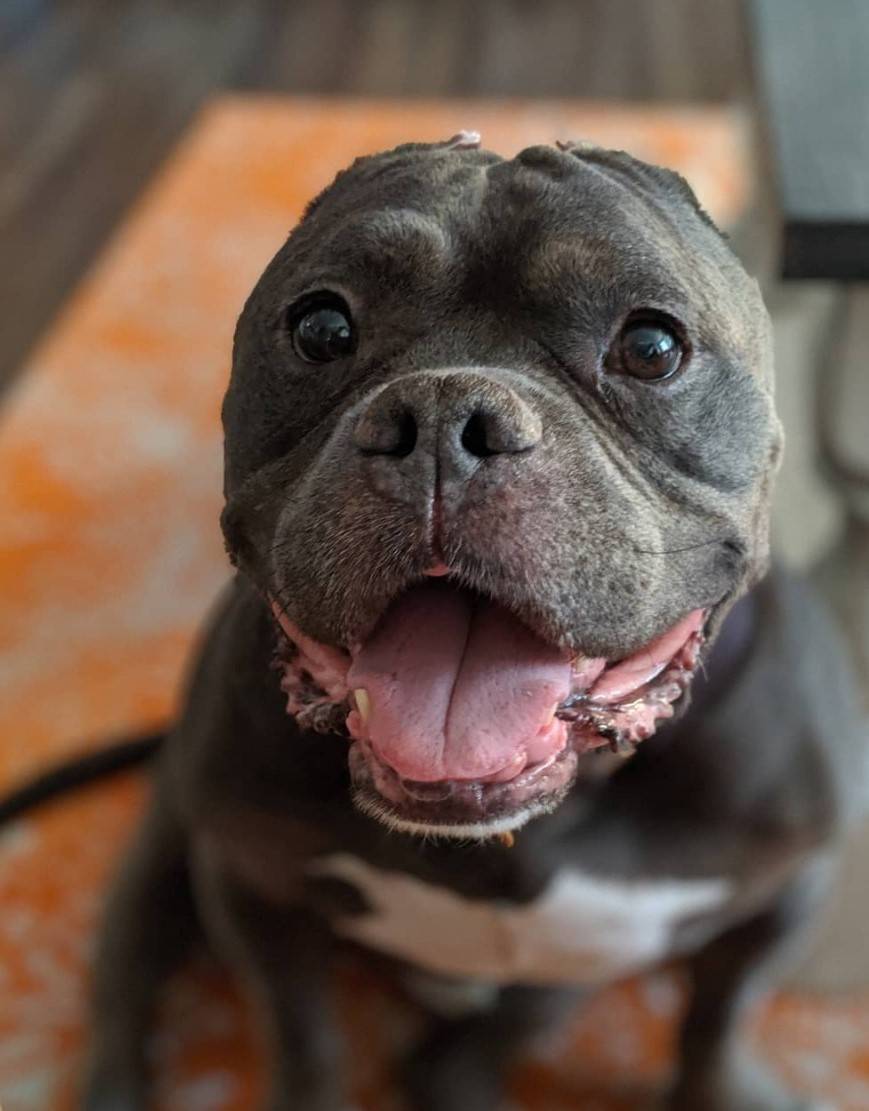 Fast forward to 2 years later and Mr. Breakfast is making waves in the fight against breed discrimination and efforts for education on ear cropping and adopting deaf dogs. He's helped to strengthen my dedication to help more dogs find the loving homes they deserve by inspiring more people to rescue through sharing rescue stories and showing what loving companions and personal fulfillment awaits them.
Do you have a rescue dog?
Join the community of proud rescue parents sharing their stripes.
Inspire more people to rescue. Save more dogs' lives.
Fast shipping. Money back guarantee.
Follow Our Journey
Instagram: @bestlifeleashes #bestlifeleashes